Evening all!
It's been a busy two weeks since we last posted, we're all full steam ahead for The Cautionary Tales next week! The students have been working brilliantly to pull the shows together, to sing harmoniously, and to tumble and roll (quite literally) in the acrobatic intro. As you can see below, they're enjoying it too!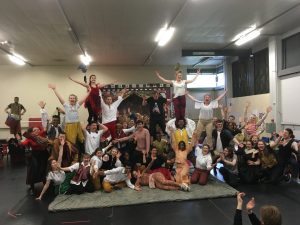 Thursday is our last day to dress run the show inside and work out any last creases in the shows. Then, next week, we have an outdoor dress run on Tuesday, and then ITS SHOW DAY!!! We will be performing The Cautionary Tales: for children considering ill behaviour on Wednesday 31st May and Thursday 1st June, 12pm-2pm.
To hear more about the event, visit the Facebook Event.
We've also updated our tour dates page, check them out to see if we're coming to a park/town/hall/school/theatre near you!
Keep your eyes on our social media feeds to see how The Cautionary Tales go. Photos and posts to come!
Happy Tuesday folks!
Joshua the Fox x