Good afternoon!
We're extremely busy as always; prepping for tour, working with students, doing charity bike rides, but let me break this down for you:
New Landscapes
So, sadly, the New Landscapes module has come to an end, and it drew to a close with an almighty BANG! The Cautionary Tales for Children Considering Ill Behaviour was a resounding success, with great audiences on both show days. Thank you to all who came to see the show, the students did a magnificent job and we can't believe our time with them is over, but we couldn't be prouder of what they have all achieved!
There are plenty of pictures and videos to see, just head to our social media pages to check them out (we took a lot of Boomerang videos on our Instagram, check them out! @TheFabularium)
Animalia Rehearsals
We got back in the rehearsal space this week with a group of Cov Uni theatre students and members of the Fabularium pool to prepare for our return to the Tales of Animalia at Just So Festival this Summer! We're currently cycling through our repertoire, introducing the students to the animal characters, sheep, peasants, Cyclops and Trees, as well as rehearsing some classic tales you will have heard before, and a set of new tales especially for Just So. The New Landscapes project acted as a research task for us and the students to delve into The Cautionary Tales, so that we can return to Just So with: The Cautionary Tales for Animals Considering Ill Behaviour. That's right! We're giving you the chance to hear your favourite animal characters tell the tales of Naughty Creatures who learnt their lesson the hard way!
We can't wait to bring these stories to you, we'll keep you posted on what we get up to in our rehearsals next week. More info on Just So Festival here. In the meantime, if you're about in Birmingham tomorrow…
Summer in Southside
For those that don't know, we'll be performing Reynard the Fox in Summer In Southside on 17th+18th June, just outside the Birmingham Hippodrome, but last weekend we let the Sheep loose on the streets of Birmingham to promote the event, and it's safe to say they had a lot of fun!
And so tomorrow it's the Animal's turn to come into town! You can hear the tales of 'The Hare and the Tortoise', and 'The Bear, the Badger and the Fox' along Birmingham High Street between 12pm-4pm. Get the 17th+18th June in the diary, there's so much to do and see at Summer In Southside, and it's free to attend! We're going to be joined by Cardboardia, Imagineer Productions, Highly Sprung, Artizani, plus much more, including plenty of countryside themed activities! More info here.
Gareth's Charity Bike Ride
On a final note, our wonderful joint-company director Gareth has been doing a charity cycle with the Heavy Metal Truants from London to Donington Park over the course of three days, to raise money for three amazing charities: Nordoff Robbins, Teenage Cancer Trust, and Childline. He's been an absolute trooper and is already half-way towards his target amount to raise. If you have a moment and some money to spare, please follow this link to donate to a great cause, every little helps!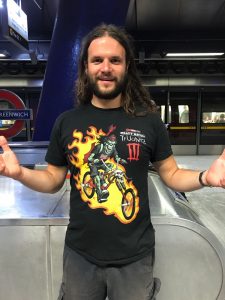 That's all for now. Thank you everyone, and have a great weekend!
Joshua the Fox x