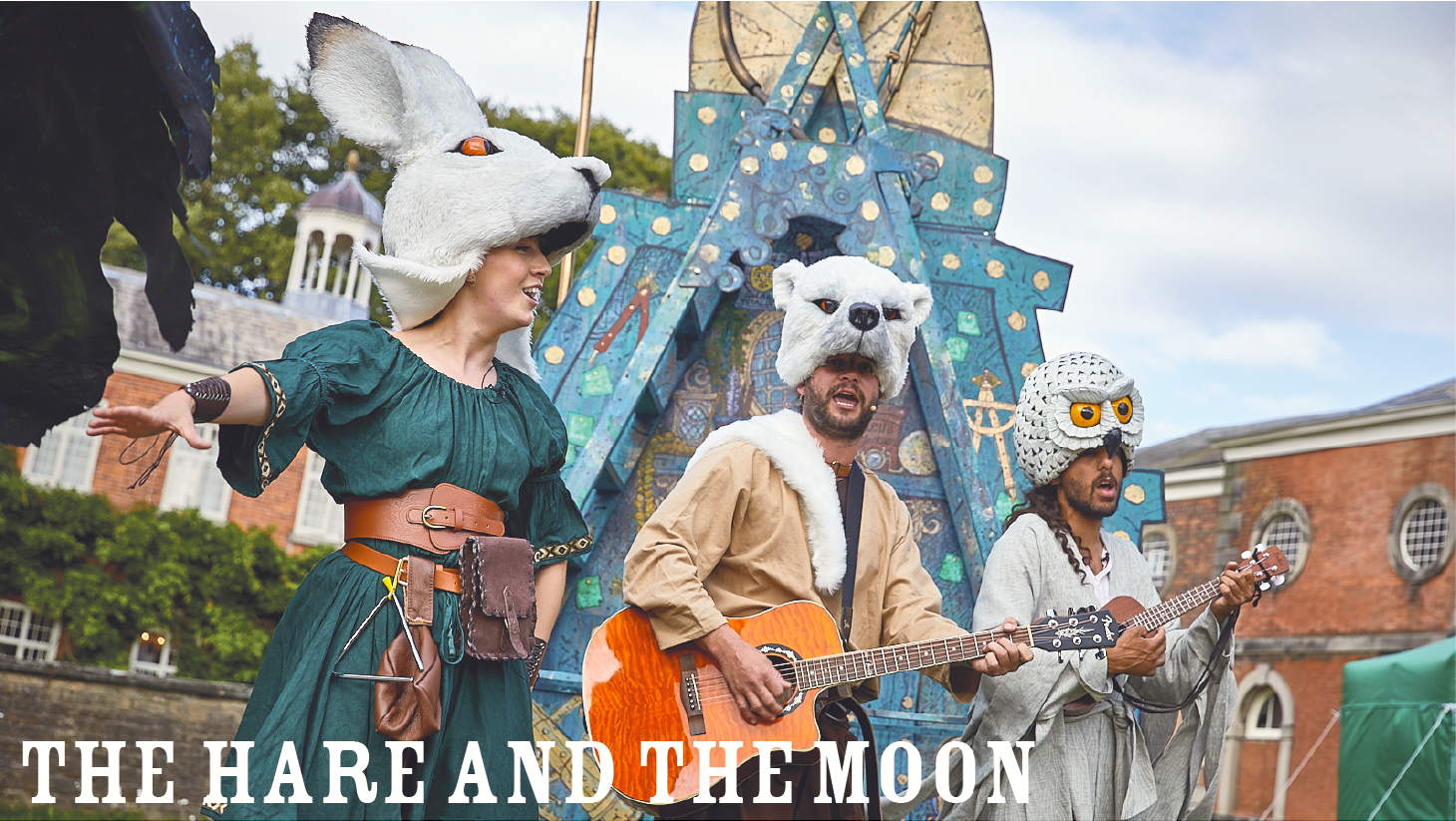 'All is not well in the Tundra of Siberia when the Sun disappears from the sky! Plunged into darkness, the Arctic Animals band together to find and reclaim the Sun, but maybe the strongest and brutish of creatures are not the ones who are best for the job. Maybe someone with long ears that is faster, smarter, and more agile is required for the task…'

Join The Fabularium Astronomers as they tell the tale of how Leapa the Arctic Hare saved the realm from a villainous beast; a tale of a furry fearless female, who brought the light back to the day and also made the night sky glow!

This new show takes The Fabularium world all the way to the Far East of Asia! Expect to see new animal headpieces, new puppets, new original music, and for the first time ever – illuminations!
Age Suitability: 5 to 105 
Running Time: 45 minutes
The Hare and The Moon Trailer
Preview The Hare and The Moon Tour trailer!
The Hare and The Moon was created in 2019, with support from Arts Council England, Kew Gardens, and Coventry University.
Artistic Director – Glenn Noble
Producer – Lou Lomas
Music Consultants – Sam Fox and Riccardo Rocha Santos
Set Designer – Jonny Dixon
Set Builder – Marcus Rapley
Headpieces – Russell Dean
Puppet Maker – Andrew Kim
Lantern Builder – Liz Dees
Lighting FX Builder – Ian Mitchell
Costume Maker and Provider – Lorna Jean Costume
Tour Pack Designer – Sam Goldney
Video and Trailer – MINDRIOT Productions
Photography – PixelTrix and Samuel Mills Photography
Special thanks to – Coventry University, Joff Chafer, Kew Gardens, Wild Rumpus and Just So Festival, Ben Irwin and Tameside MBC.