Afternoon all!
It's been a fun second week with Coventry University 2nd year theatre students. We've been getting stuck into the physical side of outdoor performance, visiting basic and intermediate acrobatics and acro-balance, then looking at developing archetypes and stereotypes.
The acro sessions, as always, were good fun with many people wanting to experiment and push boundaries. Already plenty of good rolls, cartwheels and handstands to show for it and I'm looking forward to see what comes together for the big acro piece at the start of the show!
In the following session with each group they presented their scratch pieces that was assigned to them last week. The outcome was very exciting: 8 great short pieces of theatre with so much potential for an outdoor spectacle. Now that their parameters have been extended and they know these will be their pieces to present in the show I'm curious to see how they utilise the playing space and the audience.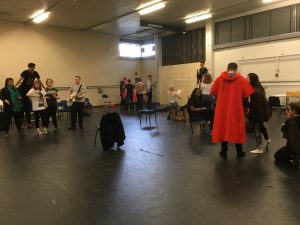 Then after a singing refresher we moved on to a technique that has had many names and the practitioner who taught it to me called it 'The Ministry of Silly Walks', reminiscent of the Monty Python sketches. I used this technique to develop a heightened physicalisation of a stereotypical character by asking the performers to walk around the space with varying body parts leading them, beginning at level 1 and then pushing them to a level 10. They then began to add vocalisation to these characters that were coming alive and then I allowed them to interact with each other in character to explore the conversation and reaction each individual character has. Following this, we tried it with an animal in mind, going from a level 10 down to a level 3, with the idea that you are human with some mild animal traits and how that can develop a character's personality to show to an audience (a typical Fabularium exercise, however normally we do this because we ARE animal characters, ha ha).
Another corker of a week! Next week we focus on the troupe of performers themselves and see what characters the students find themselves becoming…
Joshua the Fox