Hey everyone, welcome to the final Fabularium blog of 2018!
As it's the last blog of the year, I'm going to update you on what we've been up to recently, what we've achieved over this past year, and what our plans are for next year. Sound cool? Awesome! Then let's get to it!
What we've been up to recently
This December has been pretty busy for us, we've been working on new things in the run up to Christmas, as well as a fun venture northwards with Reynard the Fox…
Last Reynard performance of the year
We had our final performance of Reynard the Fox this year up in Market Rasen, Lincolnshire. We performed the indoor version of the show in the Festival Hall to a lovely, warm welcoming audience, and we were joined by the amazing Anna!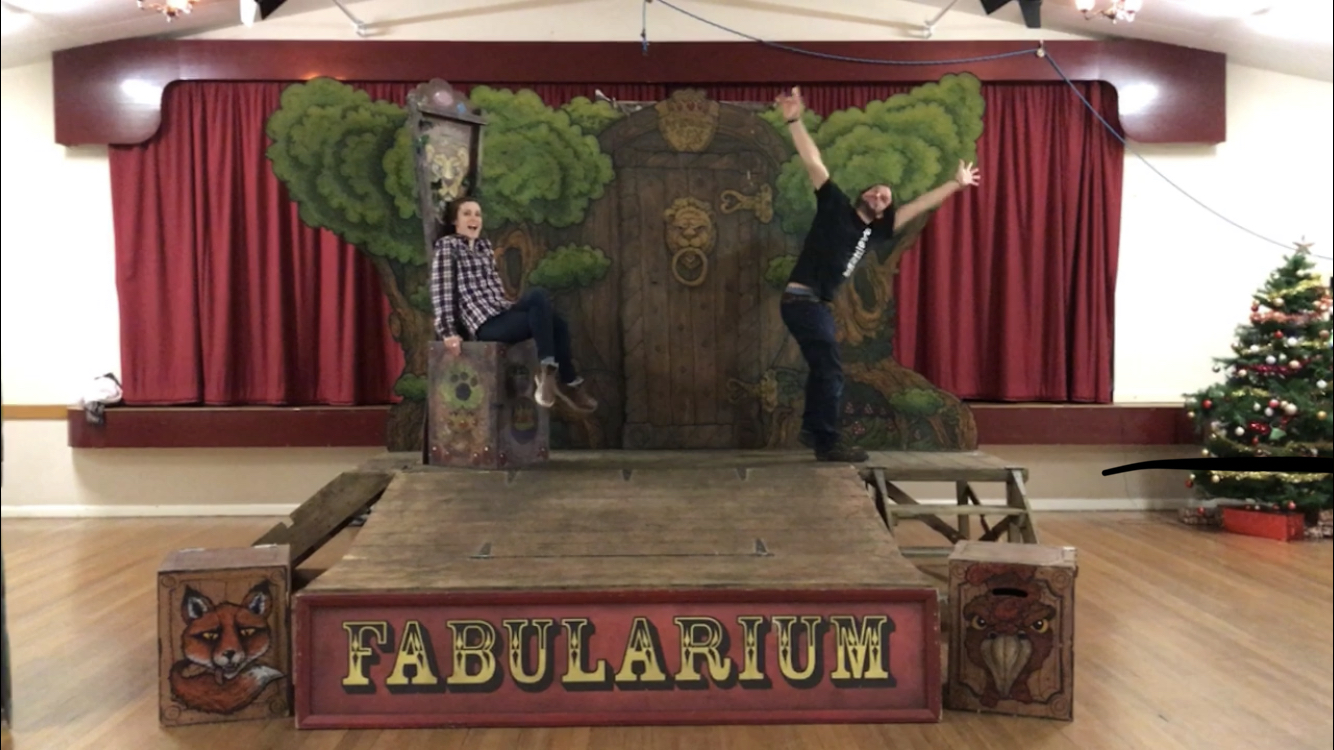 Many thanks to Market Rasen Town Council and Live & Local for bringing us back up to Lincolnshire, and to our great audience! We had such a lovely evening performing, and it was a great way to end this year's tour of Reynard the Fox. Though Reynard himself isn't quite finished this year, because…
Kew Gardens
…he's now in Kew Gardens with Grimbert the Badger!
As you may have noticed from our social media posts, myself and Elliot are currently down in Kew Gardens performing The Badger and the Fox, a new promenade performance commissioned by Kew Gardens for Christmas at Kew. This new outdoor show is part of their Tales and Trails production, featuring storytellers, winter trails, and us!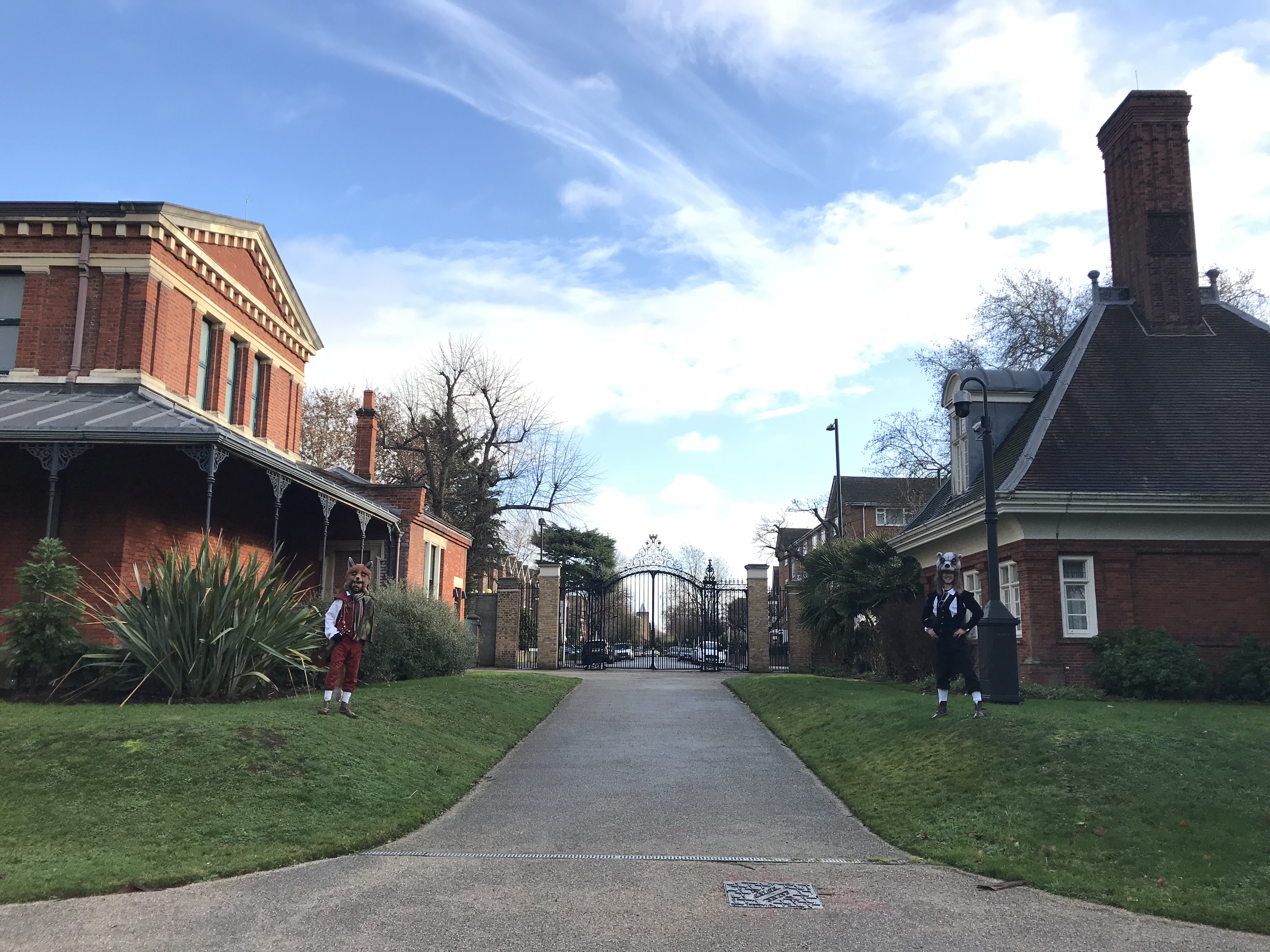 We opened the show yesterday with 3 performances, and have had incredible feedback! The positivity from our audience has really warmed us up in this December chill, and we can't wait to get back out there again today!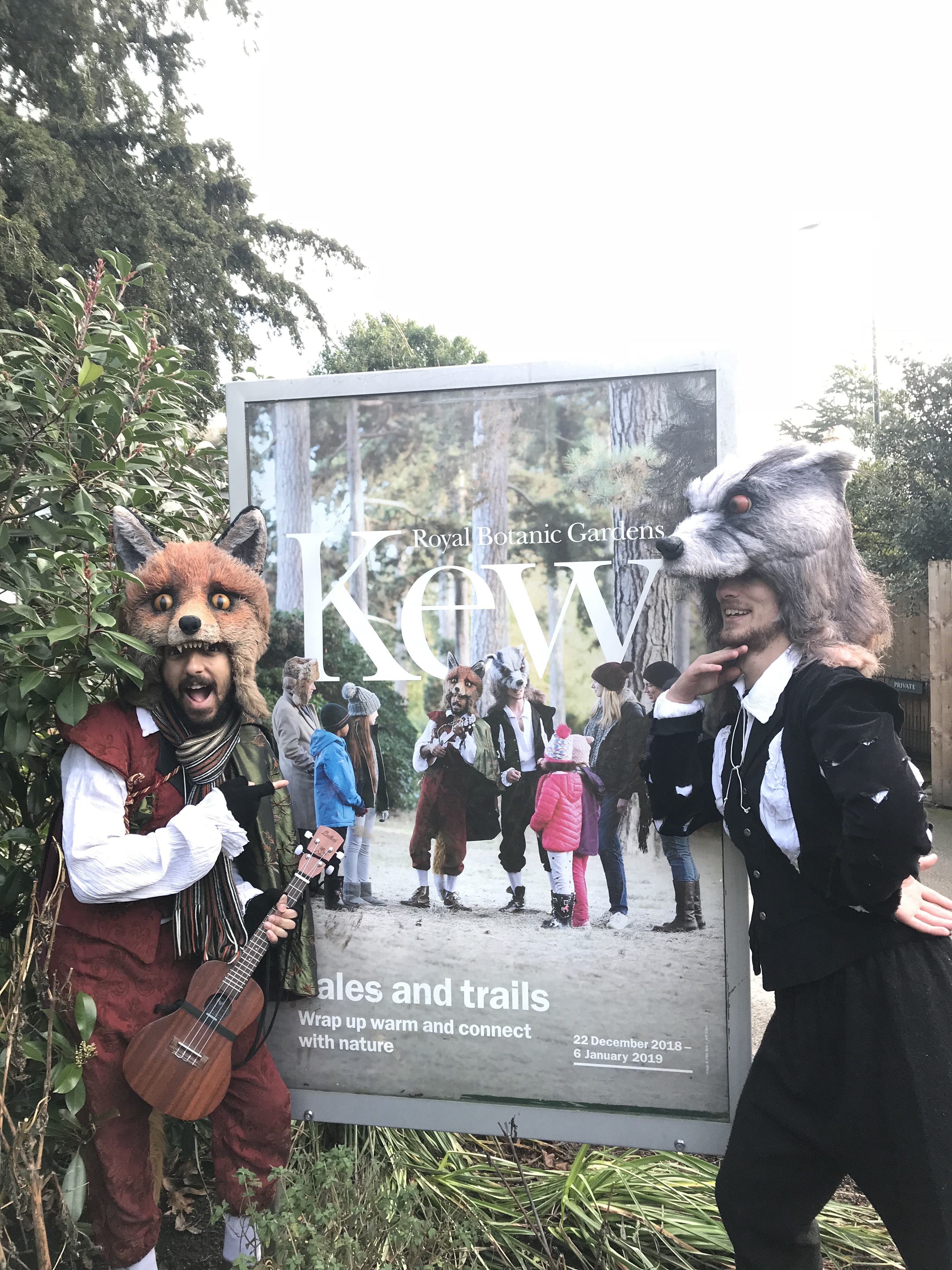 If you fancy coming and joining us for our 15-20 minute promenade performance, we'll be performing today (23rd Dec) at 11am, 12pm, 1pm and 2pm. The show will always begin outside the Shirley Sherwood Gallery (if you come in through the Victoria Gate entrance, turn left and head down the path until you see Reynard and Grimbert, they will be there 10 minutes before each show), and if it's raining then we'll continue the performance in the Marianne North Gallery. We're then taking 24th-25th December off because…well…me and Elliot are washing our hair those days…then we're back on Boxing Day and performing everyday till 6th January. We're currently doing 4 shows a day, but we'll post on social media if that changes.
You can read more about it here:
https://www.kew.org/kew-gardens/whats-on/tales-and-trails 
And finally:
Funding for a New Show
WE GOT OUR ARTS COUNCIL FUNDING!!!
We are extremely grateful for this amazing support from Arts Council England and cannot thank them enough! This funding will support the research and development of a new animal show!
Using our experience and research gained at Kew Gardens, we will be developing new work that visits a new location in the world! This year saw us visiting the sandy plains of La Mancha with There Be Monsters!, whereas next year we head east to the Siberian tundra to tell the tale of how one creature was exceptionally brave and helped save the Sun! I bet you're wondering which Fabularium character we're referring to…Well, some might say that this story is a…Hare-raising tale…
And of course a new story location means there are a few important things to be made:
New Siberian/Mongolian-styled music. New puppets. And new animal characters!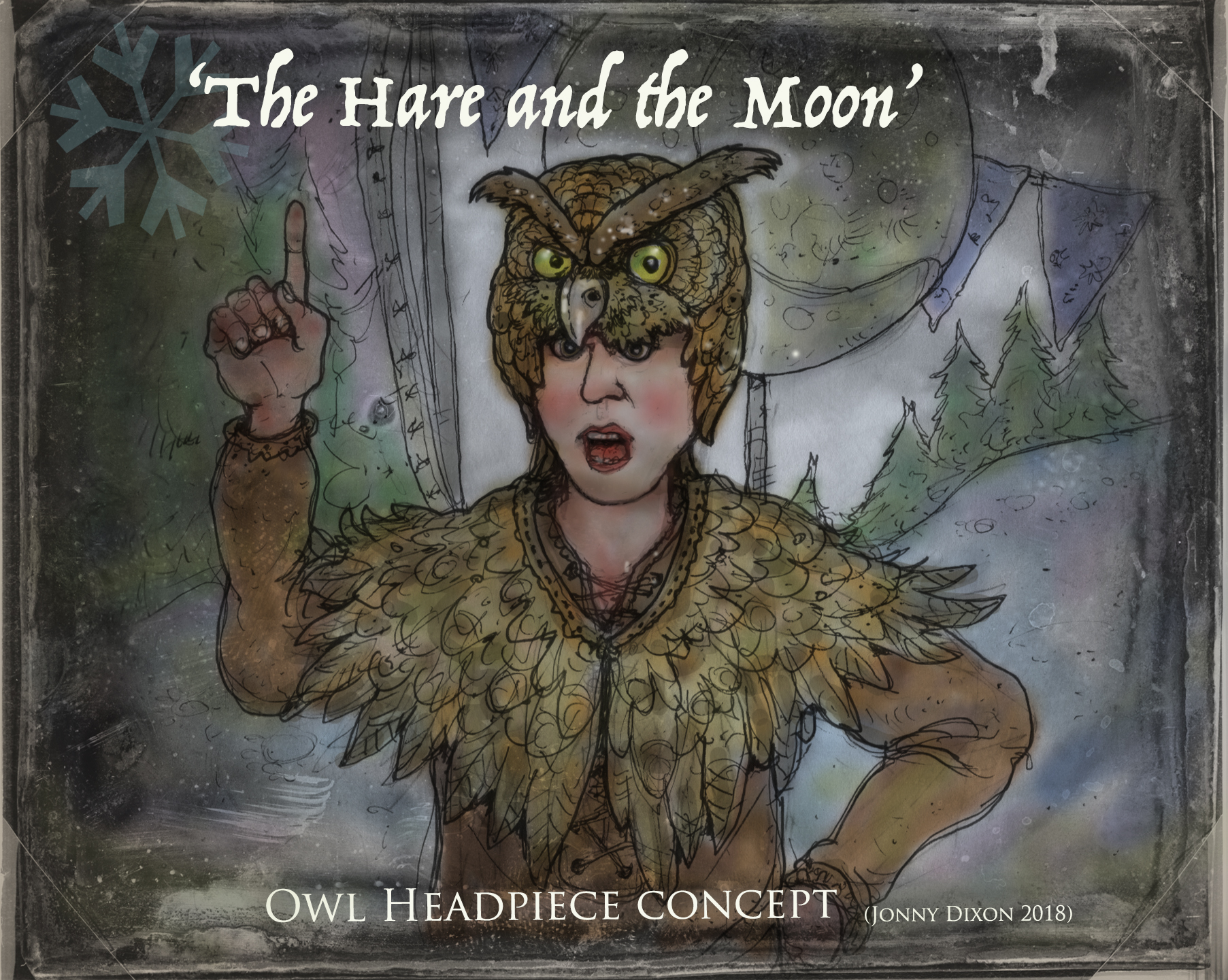 (The Hare and the Moon – working title)
An Owl will be joining the Fabularium Family, and maybe another character too! More details will follow in the new year, but for now we hope you like the amazing Owl concept image by our wonderful designer Jonny Dixon!
What we've achieved this year
It's been an exceptionally superb year for us, and we're thankful for everyone's ongoing support, we cannot thank you enough! Here's a run down from the start of the year up to the end of November (as December's antics are mentioned above):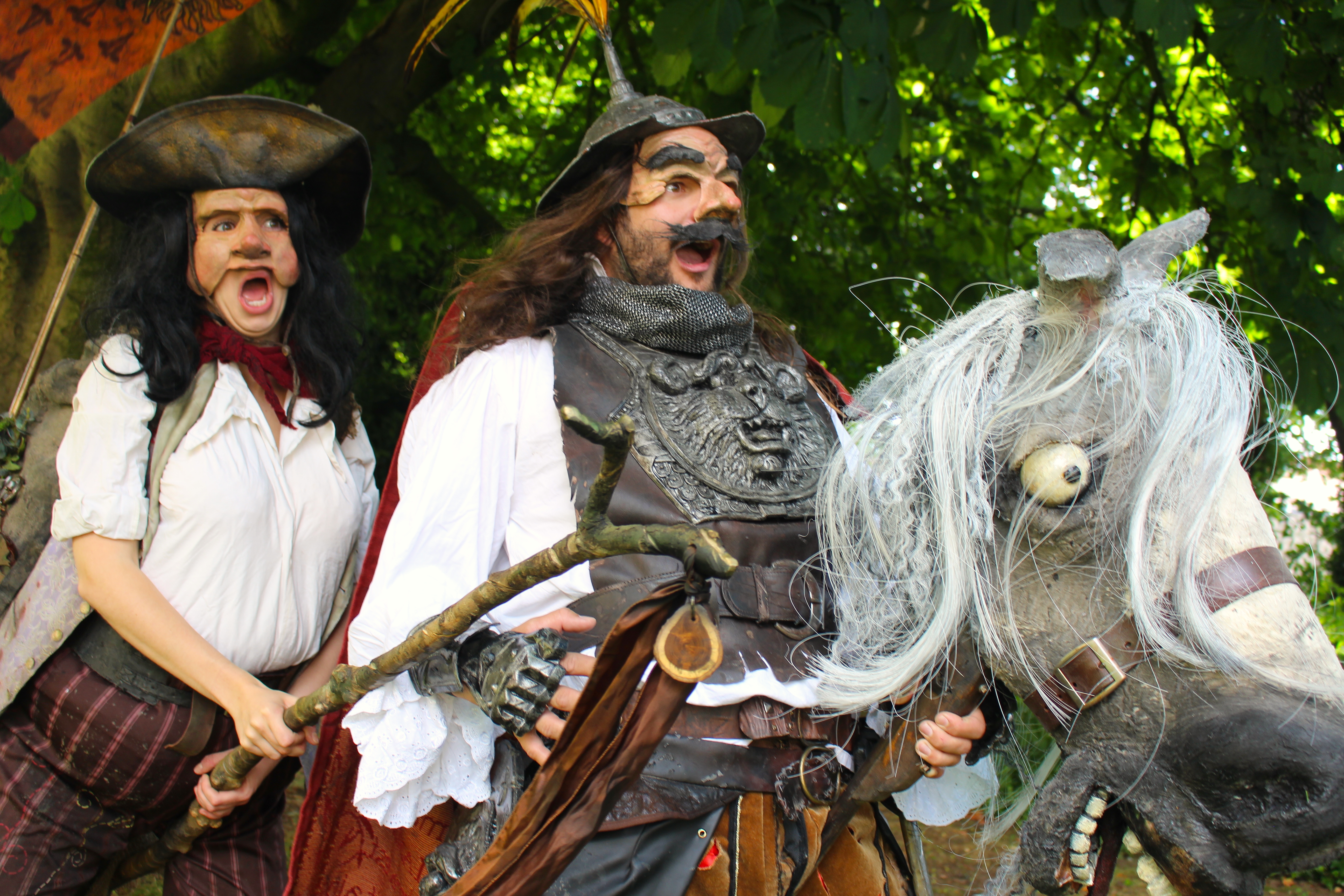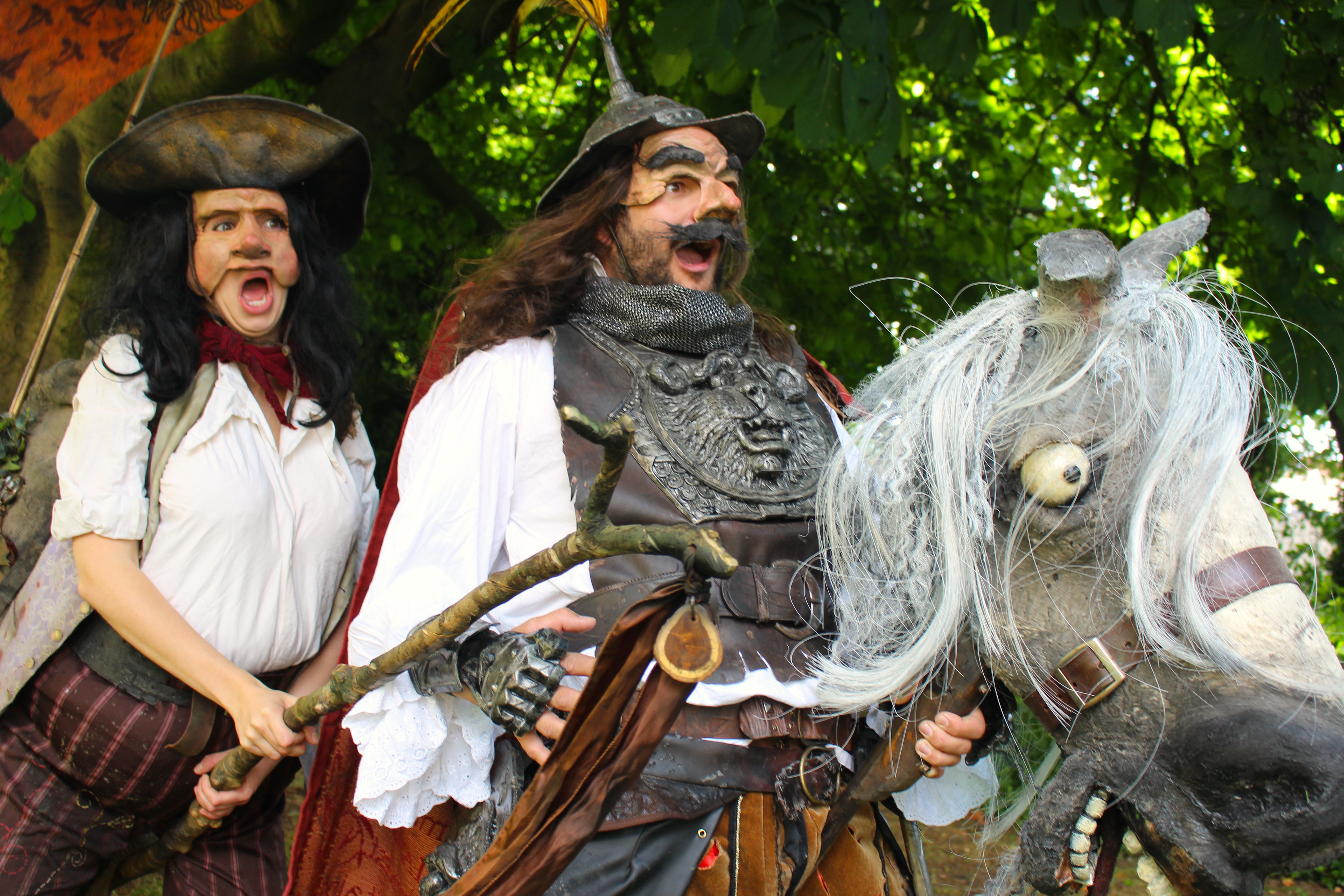 We started off the year with a successful ACE Bid, which was match-funded by Birmingham Hippodrome and Deda Derby's Offsite (seriously Arts Council England, Birmingham Hippodrome and Offsite, thank you for your support!) which led to the creation of There Be Monsters! We brought in two new actor-musicians to R&D the show, the amazing Matilda Bott and Jim Kelly, who debuted the show with us at Summer in Southside in Birmingham this Summer. Following this we adapted the show for three performers and went out on the road on a mini-tour that took us to Just So Festival, The Big Feast, and October Plenty, where we were blown away by the positive audience response!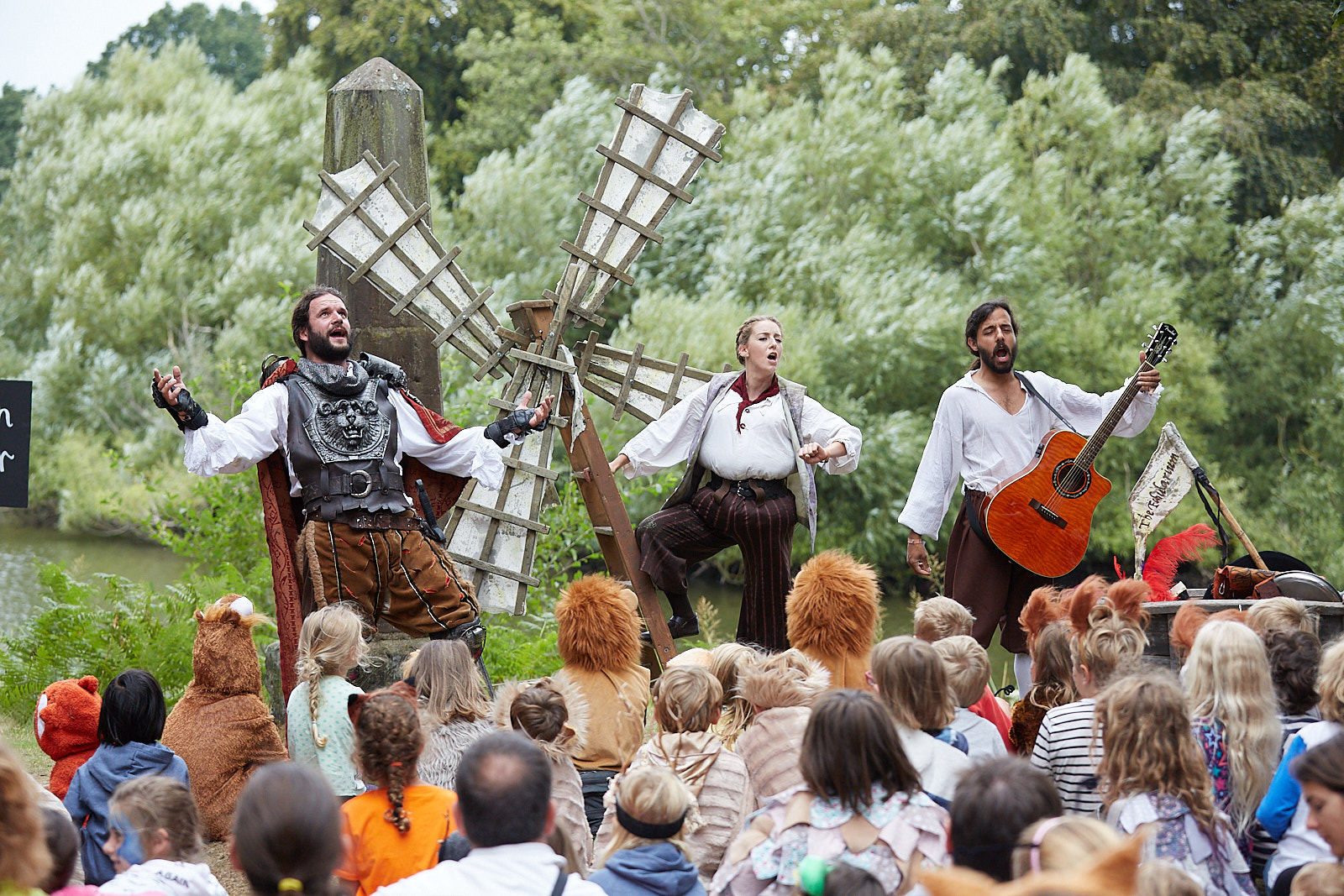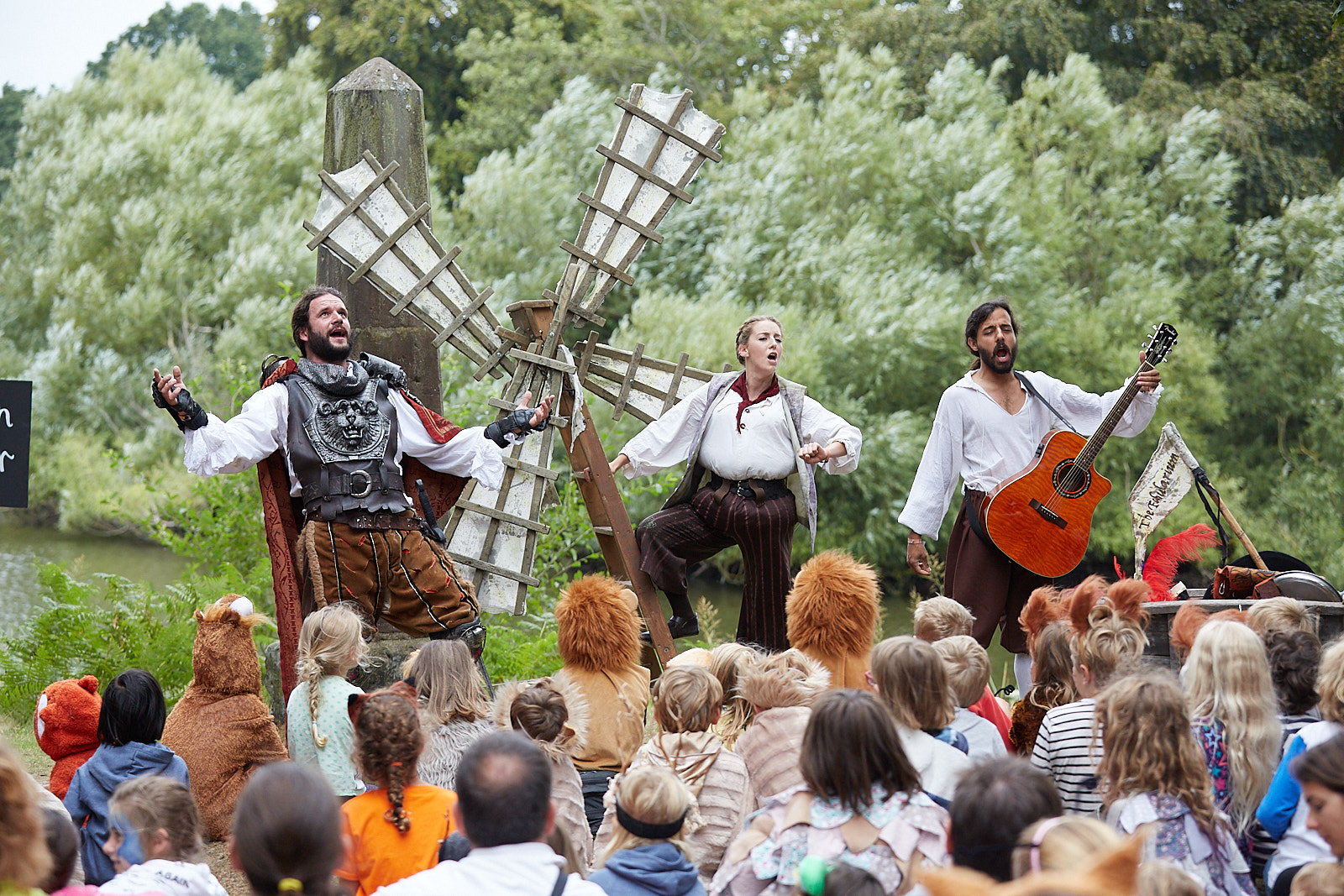 And alongside There Be Monsters! we had a mini-tour with Reynard the Fox, and The Town Band of Bremen made a come back for a mini-tour too! Here's the poster from our triple-show tour:
And one of our biggest (and most exciting) changes this year was making Jes Rowe the third company manager of The Fabularium!
It's great having three of us managing the company now, and as Jes said "Three really is a magic number!" And along with our Producer Lou and Associate Director Glenn, we make a solid team!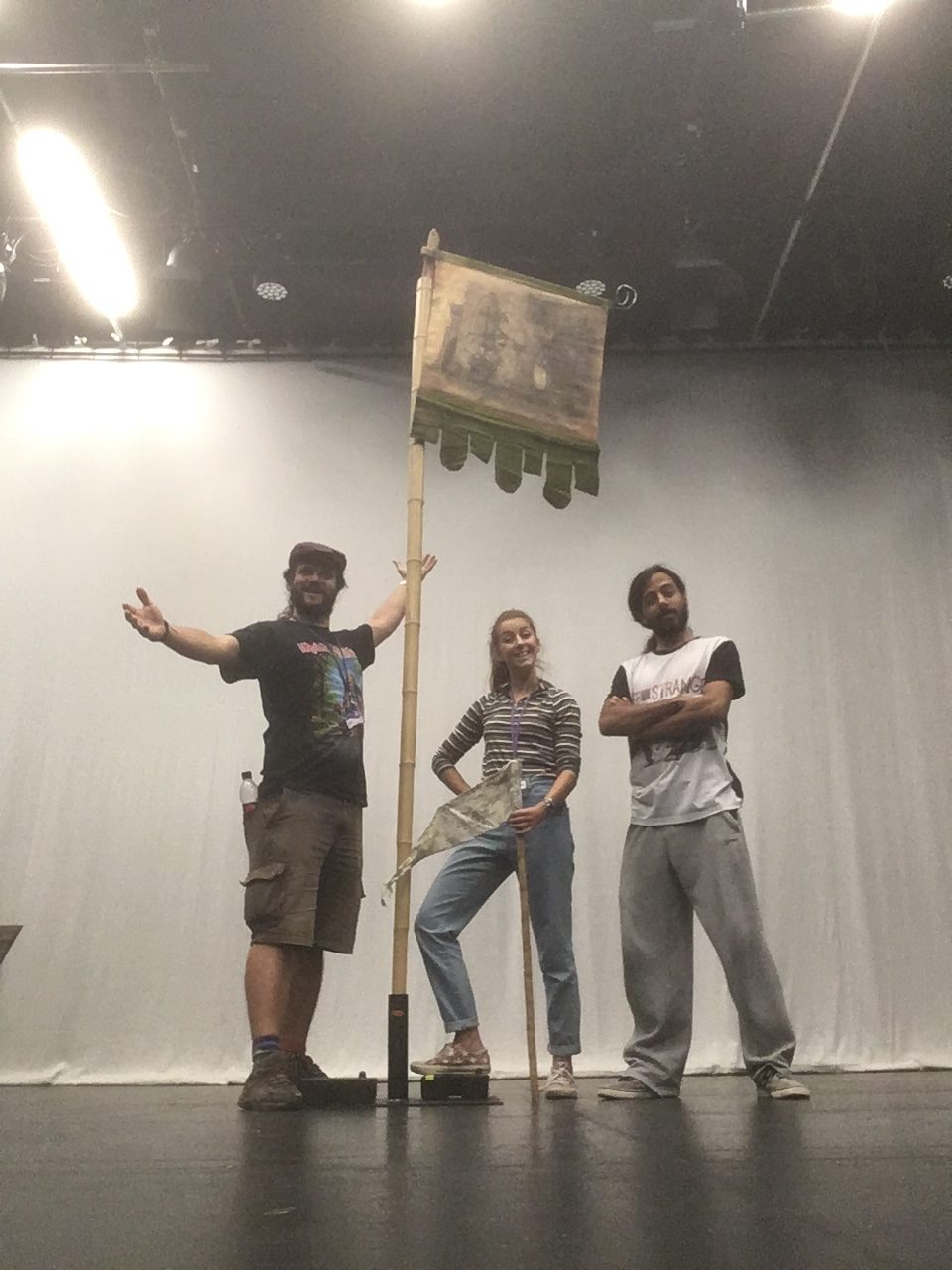 Before we recieved the commission from Kew Gardens, we had another commission from our friends at the Gloucester Culture Trust! Following the success of last year's 'Tale Exchange', they asked us how we could develop that idea further and conduct another creative questionnaire that connected to Gloucester's Cultural Strategy. This led to the creation of a walkabout act that followed the errands of Arthur Flan and Alfred Mooch, the purveyors of 'Firm Footings & Faulty Bearings'.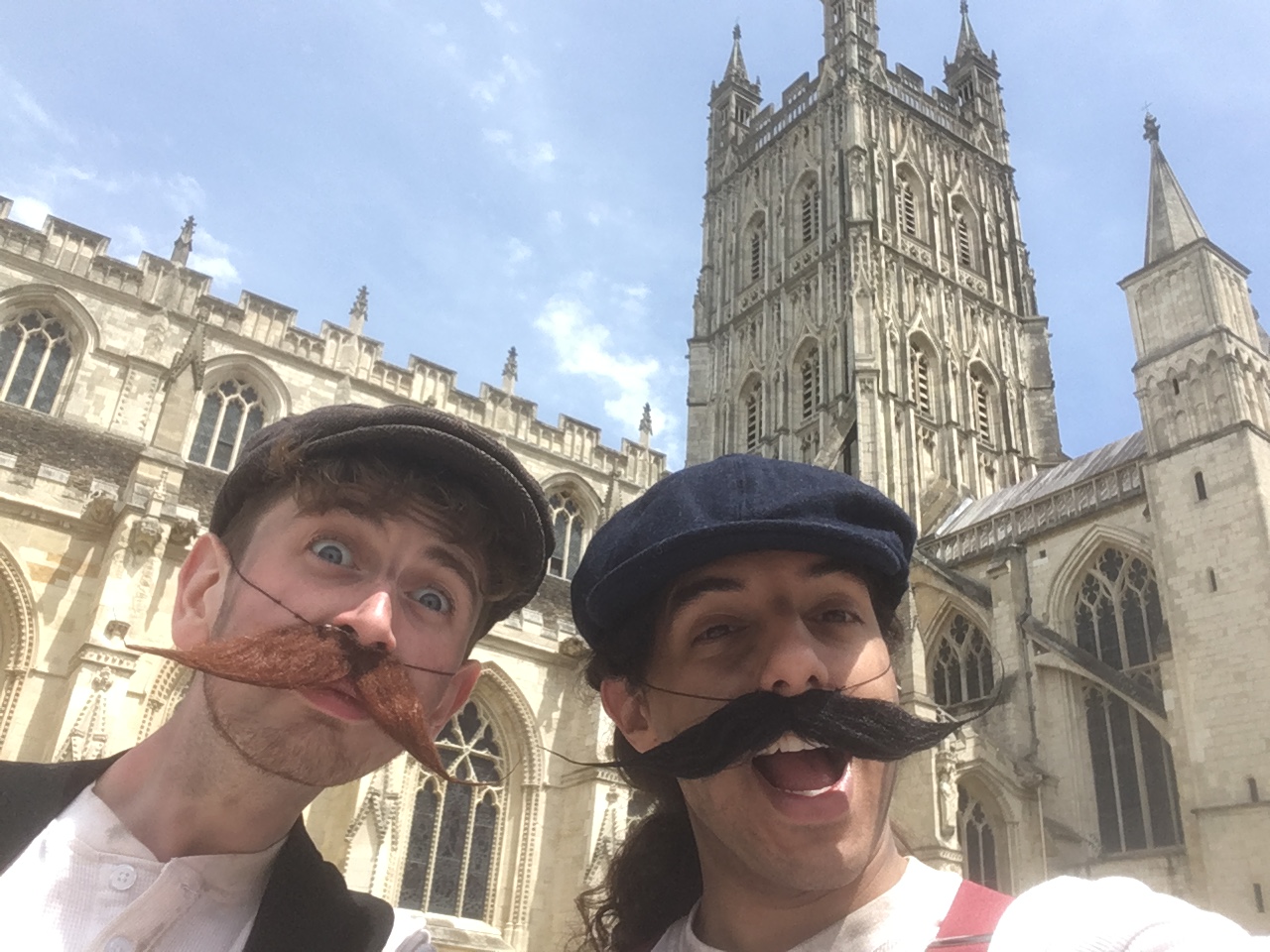 Myself and Connor took to the streets of Gloucester dressed in Victorian work gear (with rather large fake moustaches) to ask the public about their thoughts on what the word 'Heritage' meant to them, and about their favourite places in Gloucester. We had a lot of fun, and it was really interesting hearing what the local residents and visitors thought of the city.
We returned to Just So Festival this year, but not just with There Be Monsters! We continued our collaboration with Coventry University Theatre students, bringing a large group over to the festival with a collection of walkabout acts that they created themselves. The collection was called 'The Circus Sideshows' and featured Fortune Tellers, Strong Men, a Snake Charmer, a Flea Circus, trianee Fire Performers, and so much more!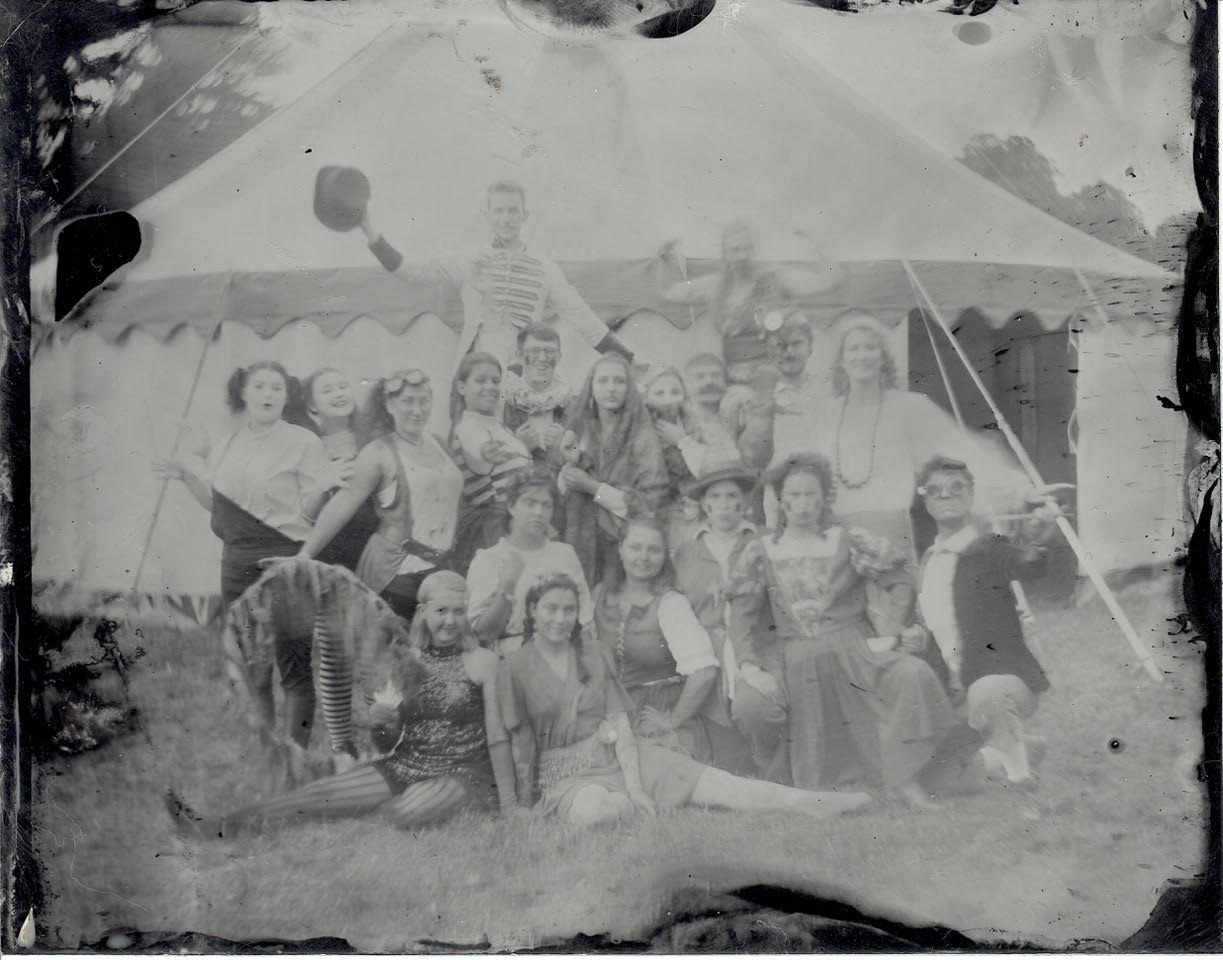 This amazing picture was taken by Tin Type Trailer, check out their website here:
http://tintypetrailer.co.uk
We are extremely proud of everyone's hard work on The Circus Sideshows, and thoroughly enjoyed working with them all!
And following this came another collaboration with Coventry University! The Fabularium and Noctium teamed up to teach and work with Coventry University third year theatre students on the Live Briefs module, a module designed to give the students the chance to work with a professional company (or in this case, two companies) intensely for 5 weeks and produce and perform a show at the end. And a month of hard work led to: Dante Cabaret, a Cabaret set in hell based on Dante's Inferno, and our first 18+ show!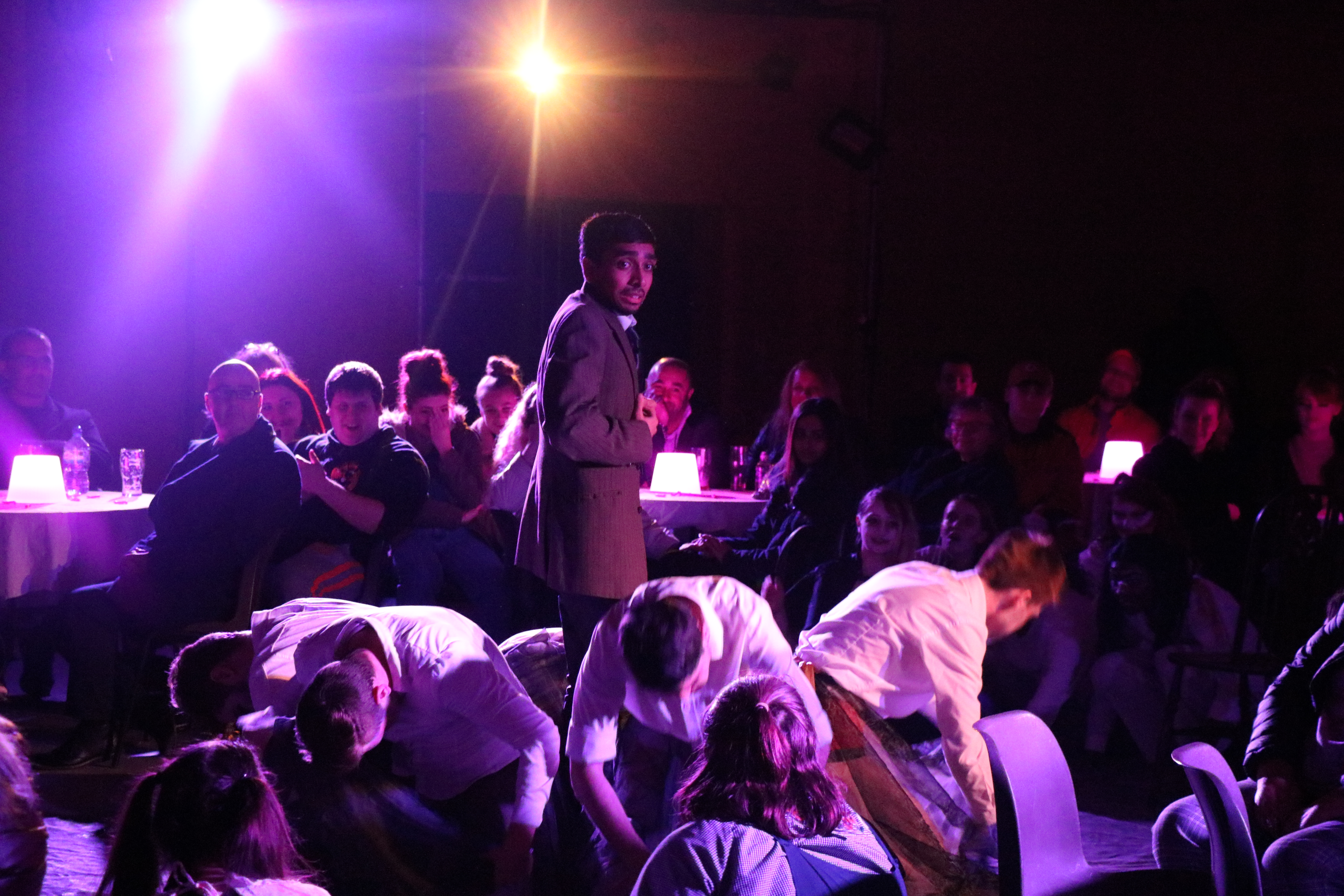 It was an ambitious project and new territory for us, but what a blast we had! The show was unbelievably crazy! It was musical, gorey, comedic, dark, witty, fun and insane! We commend the third years for their efforts in that module, we couldn't be prouder! It was everything you'd expect to see, when sitting in a Cabaret set in Hell!
And finally, myself and Gareth went to The Valley shopping centre in Evesham to join our friends Chasing Deer in switching on the Christmas Lights, which was a first for us! We had a lot of fun, there was plenty of Christmas music and dancing, and we had a great turn out for the light switch on!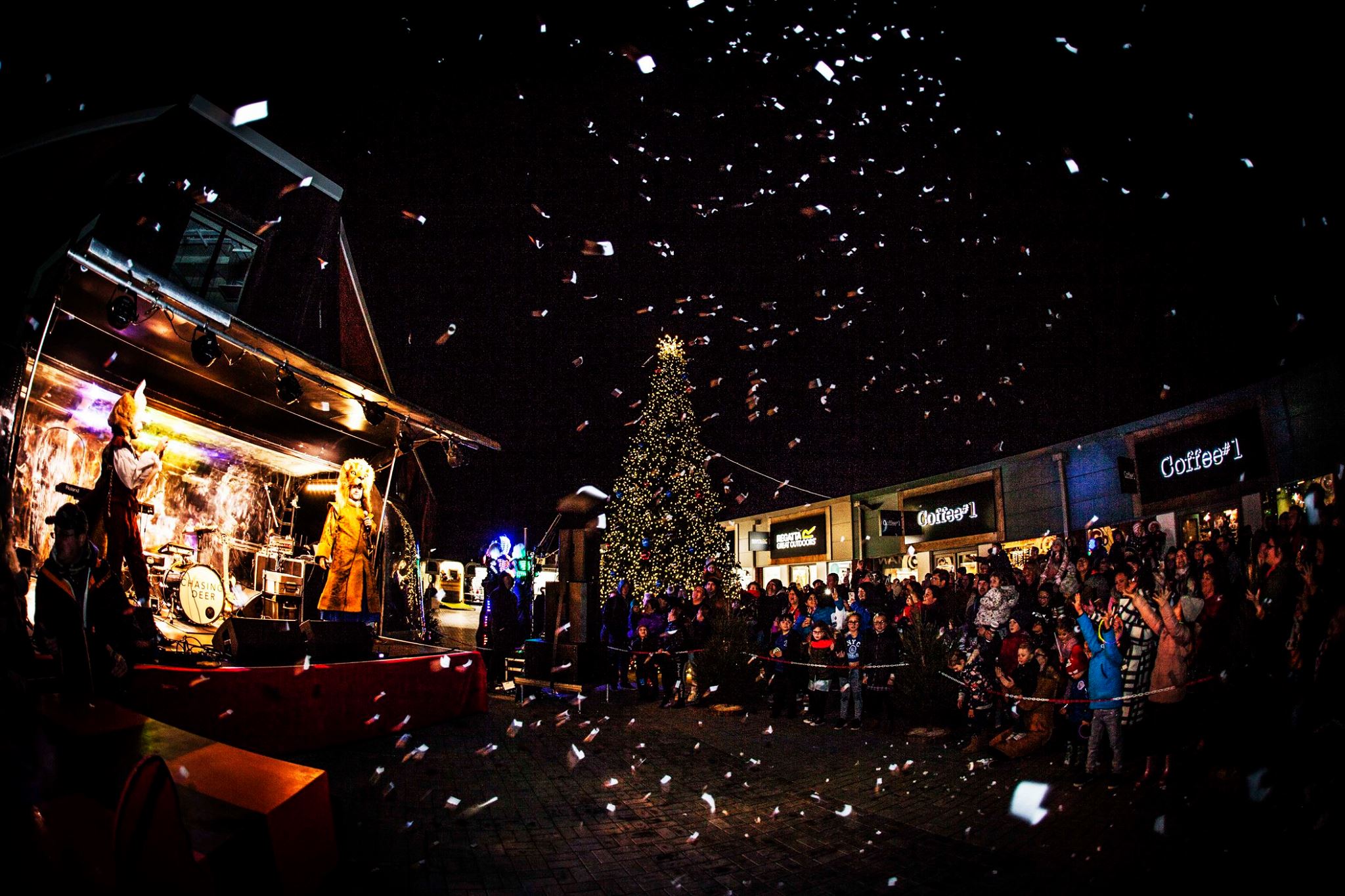 Photo credit: The Valley – Evesham
What's to come next year
So yeah, we've had a pretty good year! But what's in store for 2019? As mentioned above, we are indeed making a new animal show, but there's plenty more to get excited about:
There Be Monsters!
We really enjoyed our mini-tour with There Be Monsters! this year and have had a great response from everywhere we went! We're working on a Spring/Summer tour for our promenading take on Cervantes' classic novel, which will tie in nicely with the release of Terry Gilliam's 'The Man Who Killed Don Quixote'. Here's hoping the film doesn't get pushed back (again), but hey, if it does then why not settle your Don Quixote fix by coming to see There Be Monsters! in the new year!
Reynard will return…
Yes, the Fox and friends will also be returning for another year! We already have an indoor performance of Reynard the Fox booked in for St Michaels Village Hall in Tenbury Wells, Worcestershire, on Thursday 25th April. We'll let you know about other tour dates as and when they're confirmed!
The Fabularium Music
As you all no doubt know from having seen our shows, trailers, video clips, etc, music is an integral part of our work, and something we love and put a lot of thought into. And something we've always wanted to do as a company was get into a recording studio and record some of our songs. And…in January we will be heading into a studio in Coventry with Glenn to record a bunch of songs from our repertoire that we can then share with you all! When that will be, and what form that will be, we can't say for now, but we'll keep you posted and let you know what our plans are next year!
And that's it from us. The next blog will come in the new year. And as I said above, thank you everyone for your continued support, your uploads to Facebook, Twitter and Instagram, your wonderful e-mails of support, encouraging feedback at shows, and all your love! It's been a great year and we're extremely thankful for everything everyone has done for us.
Well, that's me signing out for now. See you on the other side, folks!