The Playful Peasants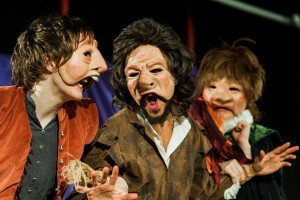 Synopsis
The Playful Peasants are a group of medieval villagers exploring foreign lands, attempting conversation in their native language of Grammallo. The Peasants know no boundaries, and will explore shops in town centers, stalls at festivals, and out of bounds areas where they may entertain the public with their troublesome demeanor.
The Peasants use half masks, physical comedy and feed off the public to create a very quick, whirlwind theatrical experience in any outdoor event. We recommend a minimum of 3 performers for this outing, but have a maximum of 10 which will cap the level of mischief!
This show can work as a stand alone walkabout animation but can also complement our other productions, especially the main cart shows.
To book 'The Peasants' or for more information and tour requirements please contact us or our producer, Lou Lomas at louise.lomas@gmail.com
The Playful Peasants were created in 2012 as part of the Coventry Mysteries festival, supported by Coventry University, that The Fabularium performed in. 
Artistic Director – Glenn Noble
Associate Director – Joff Chafer
Maker – Russell Dean of Strangeface Theatre