The Town Band of Bremen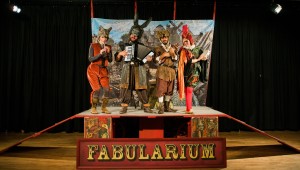 Synopsis
The Town Band of Bremen is an outdoor family show from The Fabularium about four fellow animals who all share a passion for music; featuring storytelling, live music, mask work, puppetry and a medieval cart that can be processed through town centres, community parks, and festivals.
Meet the amazing-yet-mismatched musical family who are journeying to play the gig of a lifetime in the land of the free, to become The Town Band of Bremen. After a dreadful robbery that left their Master penniless and without the means to tend to his animals, the band are now travelling from place to place upon their old trusty cart, sharing stories and singing songs, with many a mishap along the way!
Past Tour
In 2015, The Town Band of Bremen performed at:
The RSC PILOT Sites in June,
Cloudspotting Festival, Slaidburn in July
Just So Festival, Rode Hall & Gardens in August
Ramsbottom Festival, Ramsbottom Cricket Ground in September.
In 2014, The Town Band of Bremen performed at:
Sherbourne School, Coventry in October
October Plenty, Borough Market London in October
Transported Festival, Boston Lincolnshire in October
Herbert Art Gallery, Coventry in November.
Trailer
To book 'The Town Band of Bremen' or more information and tour requirements please contact us or our producer Lou Lomas at louise.lomas@gmail.com or download our promo pack here. Fabularium Tourpack 2015 (Low Resolution Web Quality)
The Town Band of Bremen was created in 2014 in association with Arts Council England and supported by Coventry University.
Artistic Director – Glenn Noble
Producer – Lou Lomas
Additional Direction – Sonia Ritter & Niki McCretton
Musical Directors – Gareth Price-Baghurst and Joshua Patel
Songwriters – Glenn Noble, Gareth Price-Baghurst, Joshua Patel, Anna Shotter and Rosie Lesurf
Workshop Practitioner – Holly Stoppit
Set Builder and Puppet and Mask Maker – Russell Dean
Set Designer and Artist – Jonny Dixon
Tour Pack Designer – Sam Goldney
Video and Trailer – MINDRIOT Productions
Photography – Depict Photography 
Special thanks to: Joff Chafer, Kieran Steward, Cara Gould, Emma Stevenson, the Lions part, Borough Market, the Transported team, and the lovely children of Sherbourne School and All Saints Primary School, who got to see the show first!